Substance Use Blog Series Part 3: Medical Treatment For Opioid Use Disorder (Opioid Agonist Treatment)
June 4, 2020
Welcome to the Deltassist Substance Use Services (SUS) blog series. This weekly series has been created during the Covid-19 pandemic to help increase awareness around drug and alcohol use and mental health. These initial posts contain information for people with questions about resources to help quit or reduce their substance use.
Today's post is on Opioid Agonist Treatment (OAT). The list of topics covered in other posts is at the bottom of the page.
Opioids include prescription drugs such as oxycontin and morphine, as well as street drugs such as heroine and fentanyl. The withdrawal symptoms that occur after our bodies have adjusted to opioid drugs cause extreme illness and pain. The symptoms are better managed by special medications that slowly adjust the body to the absence of the substances rather than by a sudden absence. The medical process of opioid treatment is called Opioid Agonist Treatment (OAT). These programs do not usually require patients to stay overnight at the clinic however, a clinician will determine after their initial assessment.
Fraser health has created this informative video about OAT:
Delta residents looking to access or find out more about Opioid Agonist Treatment can contact:
Fraser Health's Opioid Agonist Treatment clinic at Creekside Withdrawal Management Detox Services:
604-587-3755
13740 – 94A Avenue, Surrey
Fraser Health's Opioid Agonist Treatment clinic at White Rock:
Located in the Russell Annex at Peach Arch Hospital
604-541-6844
15521 Russell Avenue, White Rock
Pregnant people in the Fraser Health Region can access specialized and supportive services at the Maxxine Wright Community Health Centre:
(604) 587-3835
13733 92 Avenue, Surrey
For Delta residents who primarily speak Hindi or Punjabi, specialized language and cultural support in accessing OAT and other addiction treatment can be found through the Roshni clinic at Quibble Creek Sobering and Assessment Centre:
#102 – 13670 94A Avenue, Surrey
604-580-4950
Click on the image below to see a Global News story that gives a look inside the Roshni Clinic.
A list of all the Opioid Agonist Treatments facilities in the Fraser Health Region are listed here.  Please ensure to call first to confirm they will accept new patients and patients from Delta. 
********************************
The follow infographic from Fraser Health gives more summary information about opioid agonist treatment (you can find it on their website here or click on the image to see an enlarged version):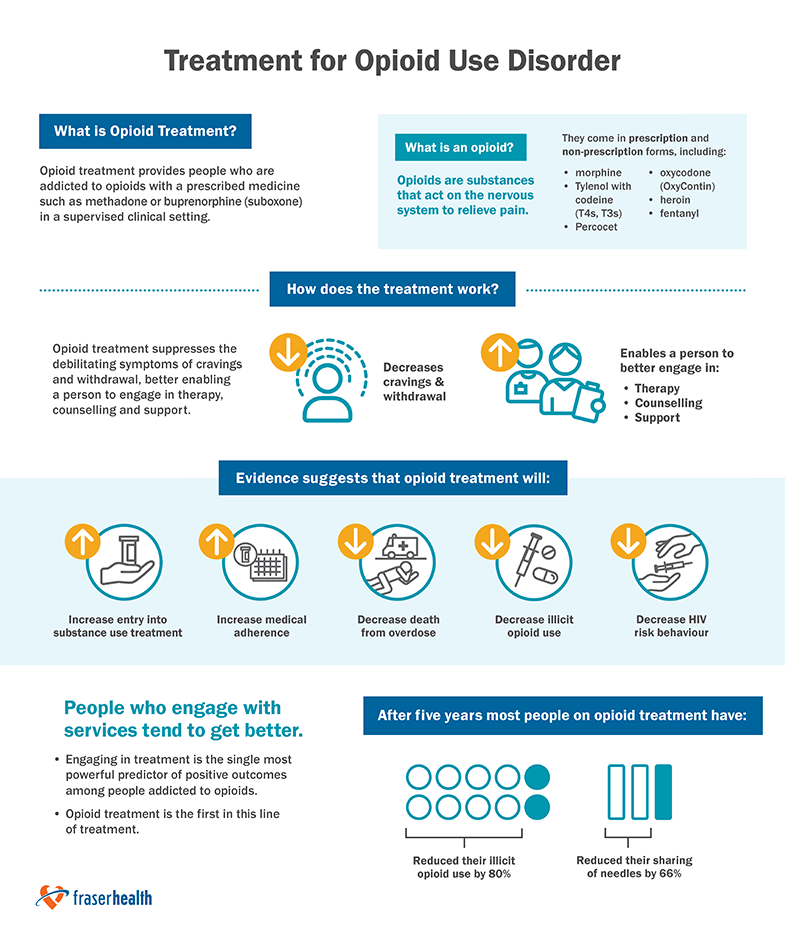 ~If you need immediate support coping with a crisis while waiting for help, please call the Fraser Health Crisis Line at 604-951-8855 or toll-free 1-877-820-7444. They are open 24/7. ~
Click the links for information about each of these kinds of services:
Update Sep 18, 2020: There are now also posts specifically on youth resources and resources for family and friends of people who use substances. Click on the highlighted words to go to those posts.